Common Sense Home Good News Letter 1/15/23
"A person dependent on somebody else for everything from potatoes to opinions may declare that he is a free man, and his government may issue a certificate granting him his freedom, but he will not be free. He is that variety of specialist known as a consumer, which means that he is the abject dependent of producers. How can he be free if he can do nothing for himself? What is the First Amendment to him whose mouth is stuck to the tit of the "affluent society"? Men are free precisely to the extent that they are equal to their own needs. The most able are the most free." –Wendell Berry, "Discipline and Hope" in A Continuous Harmony (1972)
My husband, August, got into an online discussion about a recent yahoo article titled "Food Shortages May Get Even Worse in 2023—Here's Why".
The article pointed out an assortment of economic, socio-political, and weather related reasons that various items are likely to be out of stock or more expensive. Their list included butter, eggs, bread, vegetable oil, corn, tomatoes, champagne, flour, beef, almonds, rice, and more.
So what do we do?
We take steps to plan ahead and provide for ourselves as best as we are able.
We have a whole series on the site dedicated to proper food storage and buying in bulk.
"Common Sense Ways to Stretch Your Food Budget" can also help keep costs down.
If you're thinking about getting chickens for eggs, we have tips for first time chicken owners and tips for raising chickens on a budget.
Our online course, Gardening for Beginners, will get you started with gardening. Subscribers can use the coupon code " GARDEN80 " to get 80% off the course price.
My book, "Never Buy Bread Again" will set you up for baking homemade bread. You can grow  herbal coffee substitutes  to stretch your coffee, or use straight.
We have tips to reduce your electric bill, and a simple wild yeast mead recipe that bubbles like champagne.
I could go on, but I suspect you're getting the idea. No matter what challenges lay ahead, there are ways to work through them.
All our best to you and yours,
Laurie (and August IV, August V, and Duncan)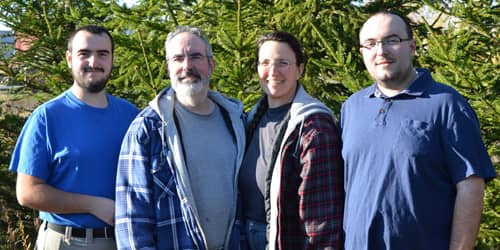 This Week's Featured Articles
This week August and I put our heads together to create a series on windbreaks. Our windbreak has made a dramatic difference on our homestead, but when we started digging, the numbers were surprising.
Cold climate or warm climate, windbreaks moderate temperature and moisture levels – not just wind. They can reduce heating and cooling costs, and provide food and wildlife habitat.
The series is divided into 3 parts:
(My computer gave me a blue screen of death in the middle of editing, but August V was able to get it functioning again. Sorry for the delay.)
Be sure to check out the video from after a recent snow storm that shows off how the planted tree line compares to a wild hedgerow.
---
High Mowing Seeds has a Garden Starter Organic Seed Kit that includes 7 plant varieties can be directly seeded into your garden or pots and are easy to grow and rewarding to harvest.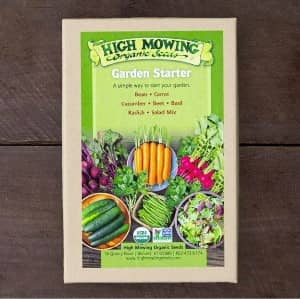 ---
Popular on Instagram this week – meet Miss Chocolate of the duck patrol and my winter splash of color.